Queen Shaker Panel Murphy Bed and two 18" Layout 1 sides - Maple Stained Onyx
$6,500.00 (retail $7,222.00)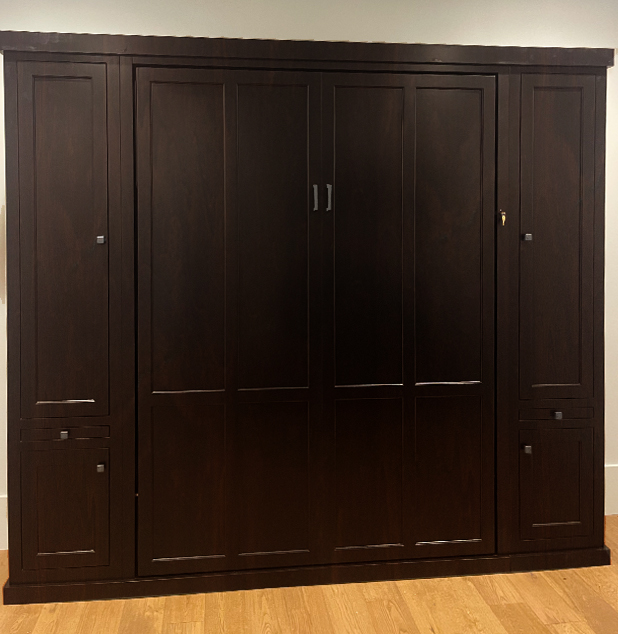 Save $722 on this Queen Vertical Shaker Panel. It is constructed of solid Maple and stained Onyx with a standard headboard and #R51 hardware. The side cabinets have an top door concealing adjustable shelves over a slide-out nightstand and bottom cabinet. They are the same height and depth as the Murphy bed. Base trim and flat crown is loose & long. Baseboard notches are already made and measure 1"W x 10"H.
Murphy Bed Dimensions: 66.625" wide x 18" deep x 89" high x 85.5" open length
Side Cabinet Dimensions: 18" wide x 18" deep x 89" high

Total width including crown molding: 104.125" wide
Standard Features
Solid hardwood construction
Wall-mounting system, which does very little damage to your wall
Gas cylinder-piston mechanism helps to smoothly and effortlessly raise and lower the Murphy Bed - The mechanism carries a Lifetime Warranty for the original owner of the Murphy Bed.
Locking mechanism to prevent the Murphy Bed from being pulled down when closed and not in use
Decorative, Laser-cut, powder-coated steel legs
High-quality, low VOC, polyurethane finish that resists water marks and scratches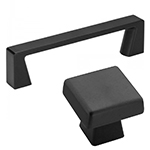 Hardware #R51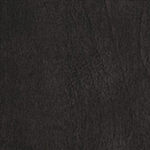 Maple stained Onyx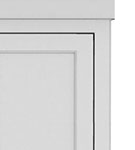 Shaker Panel with Flat Crown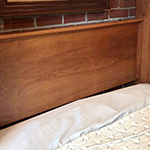 Standard Headboard