call us today
717-455-7099
Murphy Bed Shipping, Delivery and Installation Services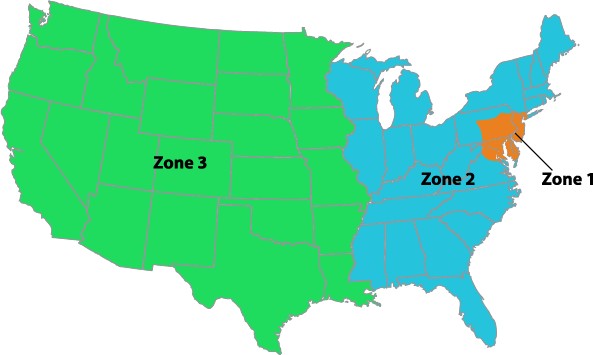 Nationwide Shipping
No matter where you live, we can deliver our quality, solid wood, handcrafted Amish-made Lancaster Heirloom Collection Murphy Bed and cabinetry direct to you, at a reasonable price. We have a proven track record of hundreds of successful projects that span from sea to shining sea and beyond.
Our products are carefully packed and boxed in-house to ensure that they will arrive to you safely and without damage. However, it is important that you inspect your furniture for any damage that occurred during transport. Before signing for the receipt of your furniture and releasing the driver be sure to carefully inspect your new purchase. Any items that were damaged during shipping must be rejected and sent back with the driver on the original delivery or you could be responsible for shipping those items back to us for repair and return.
Mattresses are not available for shipping.
White glove service is available upon request for an additional charge.
Transit times per shipping zones vary.
Shipping Costs and Transit Times — Shipping charges are not final until the shipment has been booked. Due to the rising cost of gas, shipping surcharges may be applied.
Zone
Zone Description
Transit time*
Bed Pricing
Bed + 2 Cabinet Pricing
Zone 1
Installation and Delivery Area (see below)
Installation team will schedule
Contact us for quote
Zone 2
East of the Mississippi
1-3 day transit time
Contact us for quote
Zone 3
West of the Mississippi
3-5 day transit time
Contact us for quote
* Transit times are estimated on transit between origination terminal to destination terminal. These times do not correlate to how long it will take for delivery once your shipment is picked up from our shop.
If you are outside the Continental US, there is no need to worry, overseas deliveries can be arranged as well. We want everyone in all parts of the world, to be able to enjoy our quality craftsmanship and the flexibility our Murphy Beds can provide.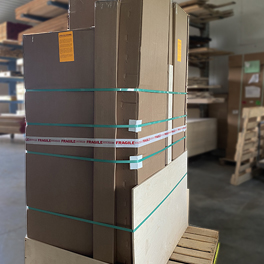 In-house Packaging
The Lancaster Heirloom Collection Murphy Bed face panel and cabinet are shipped unassembled, boxed and banded to a pallet. Murphy Beds are carefully packed into 4 packages that are 6 inches high and weigh no more than 100 lbs each. Side cabinetry is also packaged but comes fully assembled. The photo above is an example of a Murphy Bed sofa with side cabinets palleted and ready for shipping.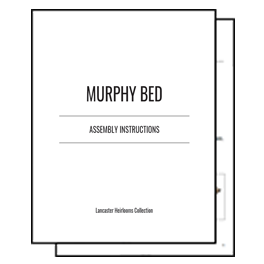 Installation Instructions
Easy-to-follow installation instructions will guide you through the installation process. This is considered a light to medium handyman job. We compare our Murphy Bed installation with bracket mounting a big screen TV or hanging a set of large storage cabinets to the wall.
Support is available via phone or video conference.
Installing a Murphy Bed and 2 Side Cabinets
Get a quick glimpse of Lancaster Handcraft's Murphy Bed installation process and the steps that it takes to properly install your Murphy Bed. This is not an instructional video.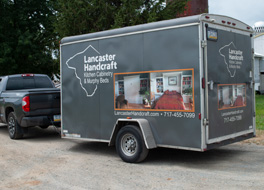 Zone 1 : Delivery and Installation Services
If you are lucky enough to live in the areas surrounding Lancaster County (Zone 1 on the above map), we offer full-service delivery and installation. We also offer a line of mattresses available for purchase and delivered at no extra cost.
Lancaster Handcraft's team of trained installers will carefully blanket wrap, pack, deliver, carry in and install your Lancaster Heirloom Collection Murphy Bed and matching cabinetry. Our service area includes parts of Pennsylvania, Maryland, New Jersey and New York. We service Washington DC and all of it's surrounding towns and suburbs as well as the 5 boroughs of New York City. If you travel the I-95 corridor keep an eye out for the Lancaster Handcraft truck and trailer and be sure to wave!
Pricing for this is based on location and scope of job. Please contact us for a quote.

Sign Up For Special Offers
"Lancaster Handcraft recently installed a Traditional Murphy Bed in my guest room. The workmanship that went into this solid wood piece is impeccable! It's absolutely stunning. It's sturdy and I suspect it will last a lifetime."
-Review by Bernetta Ayers