call us today
717-455-7099
Mobile Murphy Cabinet Beds
Murphy Cabinet beds provide small space solutions.
Space-saving Murphy cabinet beds are innovative pieces of furniture that combine the functionality of a bed with the space-saving benefits of a cabinet or armoire.
These unique and versatile pieces of furniture are designed to address the challenges of limited space, making them an ideal solution for small apartments, guest rooms, home offices, or any room where maximizing space is essential.
Space Efficiency
Cabinet beds take up significantly less space compared to traditional beds, making them an excellent choice for rooms with limited square footage - beneficial in urban environments or smaller living spaces.
Easy to Use
Cabinet beds are designed to be user-friendly.
Dual Functionality
During the day, they function as attractive cabinets or armoires that can blend seamlessly with your room's decor. At night, they can be effortlessly transformed into comfortable and functional beds.
Versatility
Cabinet beds are mobile and not limited to one room in your home. You can place them in a living room, home office, or even a studio apartment.

We have 4 styles of Moblie Murphy Bed Cabinets
All pricing below includes a mattress.
Concord Mobile Murphy Cabinet Bed - Economy Model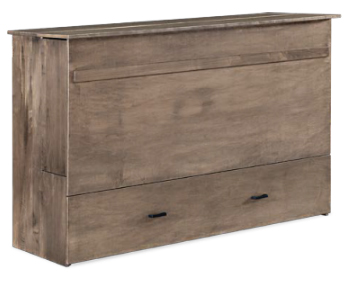 | | | | |
| --- | --- | --- | --- |
| Size | Dimensions | Oak | Maple |
| Twin XL | 44"W x 26"D x 44"H | $3,432.00 | $3,432.00 |
| Full | 60"W x 26"D x 44"H | $4,304.00 | $4,304.00 |
| Queen | 66"W x 26"D x 44"H | $4,477.00 | $4,477.00 |
| King | 82"W x 26"D x 44"H | $5,251.00 | $5,251.00 |


Glenwood Mobile Murphy Cabinet Bed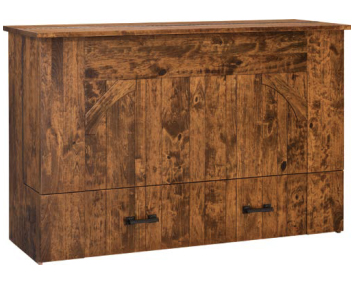 | | | | | |
| --- | --- | --- | --- | --- |
| Size | Dimensions | Oak | Maple | Cherry |
| Twin XL | 44"W x 26"D x 44"H | $4,349.00 | $4,454.00 | $4,506.00 |
| Full | 60"W x 26"D x 44"H | $4,669.00 | $4,785.00 | $4,828.00 |
| Queen | 66"W x 26"D x 44"H | $5,058.00 | $5,184.00 | $5,215.00 |
| King | 82"W x 26"D x 44"H | $6,433.00 | $6,601.00 | $6,638.00 |


6" Mission Mobile Murphy Cabinet Bed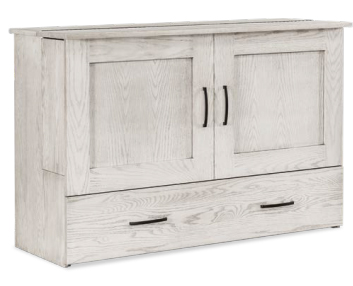 | | | | | |
| --- | --- | --- | --- | --- |
| Size | Dimensions | Oak | Maple | Cherry |
| Twin XL | 44"W x 26"D x 44"H | $3,882.00 | $3,918.00 | $4,282.00 |
| Full | 60"W x 26"D x 44"H | $4,405.00 | $4,5411.00 | $4,827.00 |
| Queen | 66"W x 26"D x 44"H | $4,716.00 | $4,863.00 | $5,150.00 |
| King | 82"W x 26"D x 44"H | $5,649.00 | $5,808.00 | $6,561.00 |


8" Mission Mobile Murphy Cabinet Bed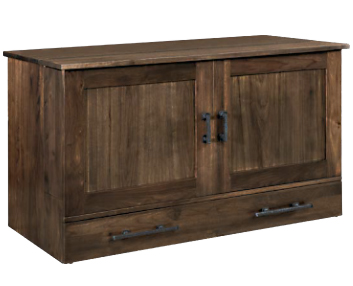 | | | | | |
| --- | --- | --- | --- | --- |
| Size | Dimensions | Oak | Maple | Cherry |
| Twin XL | 43.5"W x 31.5"D x 38"H | $4,979.00 | $5,103.00 | $5,215.00 |
| Full | 59.5"W x 31.5"D x 38"H | $5,469.00 | $5,607.00 | $5,688.00 |
| Queen | 65.5"W x 31.5"D x 38"H | $6,116.00 | $6,274.00 | $6,396.00 |
| King | 82.5"W x 2631.5D x 38"H | $7,088.00 | $7,275.00 | $7,350.00 |