call us today
717-455-7099
Downsizing Solutions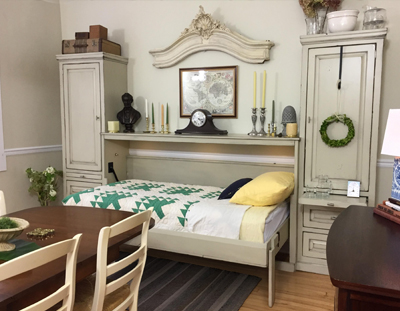 Downsizing to smaller homes, apartments, or condos is a great solution for people who no longer need a big house. Smaller living spaces mean lower bills, less to clean, and less to maintain which leads to more free time and money. Experts often say that when downsizing you need to consider the space that you actually use, rather than the space that you only use once in a while. However, let's consider that space for a moment. By definition, downsizing means less space which often means fewer bedrooms. With a Murphy bed, sometimes referred to as a wall bed, any room can transform into a bedroom - whether it's a home office, your workout room, or any type of flex space.
The photo to the left is an example of a spare bedroom/dining room. This is an apartment. The couple moved to a one bedroom after they had retired and their children had grown and left the nest. They wanted space for their grandchildren to sleep in when they stayed overnight. Hidden inside of what looks to be a buffet is actually a twin-size bed. This Murphy bed blends into the decor and adds much-needed storage for china and dining accessories after downsizing.
We can customize a murphy bed to fit into just about any room in your home, regardless of the size. Our handcrafted selections offer you the versatility and flexibility you need when you long to downsize and simplify your life. Contact us today to see how we can help!