call us today
717-455-7099
Which style Murphy Bed Desk are you?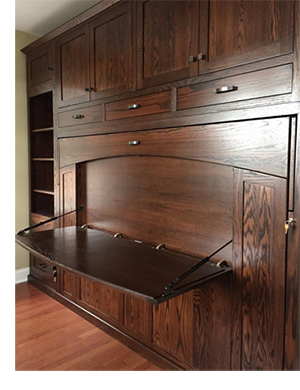 The Dropdown Desk is more like a hidden bonus to the front of your Murphy Bed. When you want a workspace, it's there to open into place. When you don't, you simply lift it back up and lock it into place. The workstation on this desk 22-3/8 inches deep.
The desk front dropdown utilizes the same piston mechanisms as the Murphy Bed, which means the desk opens smooth and slowly drops into place. It's very easy to operate and does not take much effort to close. This style desk also uses the same leg system as our standard Murphy Bed.
Both Murphy Bed Desk options are available in our full line of wood varieties and panel styles - Traditional Raised panel, Shaker, Mission and Contemporary - and are wonderful space-saving solutions for anyone looking to add a bedroom and create a workstation at the same time. It combines the home office and bedroom into an affordable, compact, stylish, heirloom quality piece of solid wood furniture. Side cabinetry can be added to enhance your storage needs. Murphy Bed Desks are great for apartment living, small condos, vacation homes or those who are downsizing.
Whether you need a laptop station, craft table, art space or a spot for doing your paperwork, the Murphy Bed desk is the perfect add-on to any Full or Queen-size Murphy Bed.