call us today
717-455-7099
Murphy Beds are Ideal Fire Stations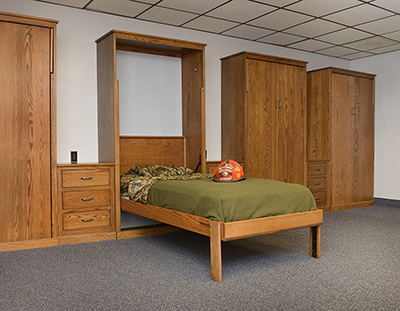 Fire Departments are manned 24 hours a day, 365 days of the year. While fire houses serve the community, they also serve as the firefighters' second home. Murphy beds allow each firefighter to have their own mattress which eliminates the need to constantly change bedding with each shift. This makes for easy and sanitary sleeping conditions and allows everyone a good relaxing night of sleep. Additionally, Murphy beds allow the space to be transformed into training areas or multi-purpose rooms when not being used as sleeping quarters.
Murphy beds also have financial benefits. Existing firehouses can easily be retrofitted to add sleeping quarters without the expense of adding an addition. New firehouses can utilize Murphy beds to design sleeping quarters with a smaller square footage, which in turn cuts construction costs and saves money on future utility expenses.
First responders are heroes who deserve the very best. We can easily transform your space into a comfortable sleeping climate for the men and women who keep us safe and sound. Our beds are fully customizable to meet your particular needs as well as the parameters of your space. Contact us today to see how we can help!