call us today
717-455-7099
Space Saving Solutions for Bedrooms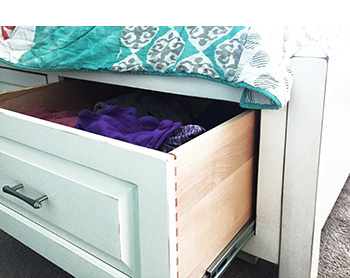 For the average person, designing for small or even average bedroom spaces seems challenging. Getting rid of excess and decluttering may solve some of the problems, but not all. Below are some space saving tips to maximize your space.
1. Under bed storage.
Put the wasted space under your bed to better use. Captain's beds, which have drawers built into the bed frame, are a perfect solution. If you don't want to invest in a new bed, there are plenty of other storage options available. You could simply add some slim boxes/containers that are made to fit below your bed. If you are a DIY type of person, you could add castors to some old drawers and make yourself some crafty storage.

2. Floating shelves.
Think outside the box...in this case, the bookcase. Floating shelves are a great way to utilize storage space without taking up floor space. Higher shelves will make the room feel larger. Repurposed drawers or crates mounted on the wall are a fun way to add unique shelving.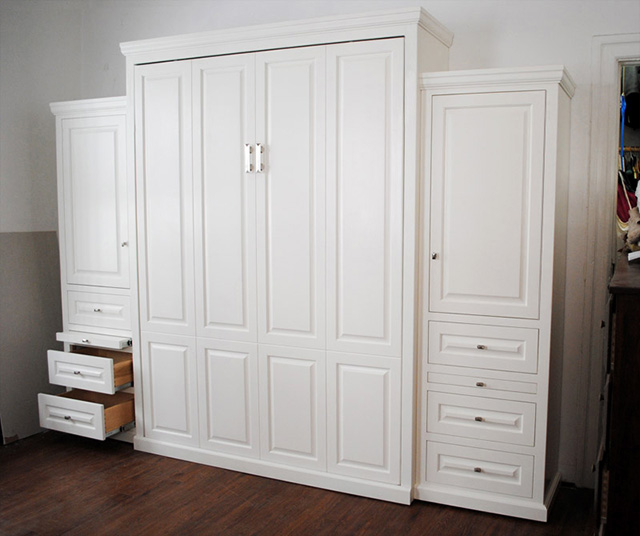 3. Shelf desks.
Laptops and tablets have taken the place of large desktop computers and workstations have sized down to fit this need.

4. Mirrors.
This one isn't really a space saver, but adding wall mirrors will add light and give the illusion of a bigger space.
5. Loft beds.
Loft beds aren't just for overcrowded dorm rooms. When you don't have enough space on the floor, you need to build up. Think vertically. Loft beds are a good solution for small spaces.
And last but not least...
6. Murphy Beds.
Murphy Beds are a perfect solution for living spaces that you don't need to be devoted 100% of the time to being a bedroom. Maybe you want a home office, workout studio, or sewing or scrapbooking room, but you also need a bedroom for your in-laws or out-of-town guests. A Murphy bed folds up easily and out of the way when you need the space. We can fully customize the perfect Murphy bed for just about any room, regardless of size or shape. Murphy beds can be life-changing in the amount of space you can reclaim that would normally be consumed by a typical bed. Contact us to see how we can transform your home and your life!