call us today
717-455-7099

What to Look for When Buying Quality Furniture
These days it's all about efficiency. Fast food. High-speed internet. One-day shipping. We've grown to demand what we want when we want it. Unfortunately, because of our new taste for the here and now, craftsmanship of everyday goods has fallen by the wayside. Clothes, shoes, and even furniture are now constructed as disposable versions meant to satisfy our desire for fast, cheap, and easy.
However, furniture should be an investment. Heirloom-quality pieces that stand the test of time and can be passed down from generation to generation. To the untrained eye, finding good furniture might be a challenge. The market is flooded with the junky stuff, so a little pre-shopping prep will serve you well in finding well-made selections. Check these five tips out before you break out your wallet.

1. Materials
A great deal of modern furniture is made from MDF (medium-density fiberboard), or other inferior materials. While this type of furniture may be okay for kids' room due to the amount of wear and tear it will suffer, you should avoid it for more important pieces in your home that you want to stand the test of time. If you do find solid wood furniture, look for hardwoods without too many knots which can cause cracks with time and scratch-resistant durable finishes. Be sure to ask questions about the hardwood to verify that what you think you see is real. Veneers are often used that can give the look of hardwood, but not the durability.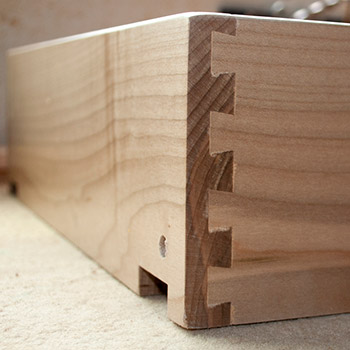 2. Construction
Avoid any furniture that's constructed using staples, glue, or nails. Dowels, screws, dovetail joints (pictured here), tongue and groove and mortise and tenon interlocking pieces are all good signs that you're purchasing a quality piece. Corners should be reinforced and door panels should be solid core.
3. Origin
Often, foreign imports can be mass-produced, cheaply made and can contain chemicals which offgas your home leaving offensive fumes. Try to buy domestic pieces that you can carefully inspect before investing in them. Some furniture is marketed as "Amish" as a selling point when in fact it's produced to mimic the style but not the quality. Amish furniture is never mass-produced. If you see "Amish" furniture in a large retail store, this should be a red flag. You will mainly find Amish furniture in small, specialty shops that can identify their relationships with specific Amish communities.
4. Design
A piece of furniture can be well made, yet still poorly designed. Consider such things as even staining, size, style, functionality, hardware, etc when purchasing your selections. Typically, simple designs that don't overcomplicate work best.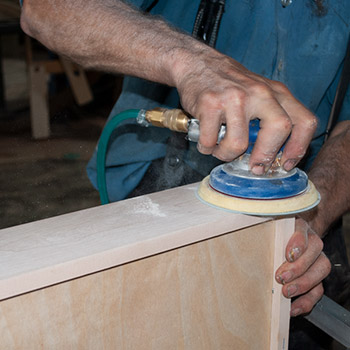 5. Age
They don't make them like they used to! Vintage and antique pieces are often made with a high level of craftsmanship that's rarely seen in this day and age. Amish furniture is one exception. Amish woodworkers use time-tested, old-world, construction techniques that are built to handle everyday use for generations to come. Ensure the pieces haven't suffered too much wear and tear over the years and try to purchase from a reputable dealer.

Above all, be sure to inspect every inch of any piece of furniture you plan to buy. Look for dents, dings, scratches, and any other damage. Ask questions about the materials and construction process. Find out where the piece was made. If purchasing Amish furniture, you will be able to tell if the retailer has a genuine relationship with the craftsman, if they know all of the details. With a little homework and a lot of knowledge, you can furnish your house with gorgeous, well-made furniture that will last a lifetime and beyond.

Glossary of terms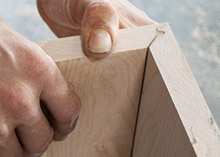 Tongue and groove: A type of joint that connects two pieces of wood. Woodworkers around the world have used it for thousands of years to join pieces of wood. Examples of tongue and groove joints include dovetail joints, lock mitered joints and mortise and tenon joints.
Mortise: a square hole made to receive a tenon and so to form a joint
Tenon: a projection at the end of a piece of wood that is shaped to fit into a mortise and form a mortise joint
Dovetail joints: Finger-like joints between two pieces of wood enable a tight, strong, and long-lasting fit. Commonly used to join the sides of a drawer to the front.
Lock miter joints: a routed tongue and groove joint that allows cabinet corners to be joined without any seams or exposed end grain
Solid core doors: constructed of solid wood which makes them dense, heavy and able to withstand more wear and tear than hollow core doors
Sign Up For Special Offers